Principle-centered Leadership for Innovation and Competitive Advantage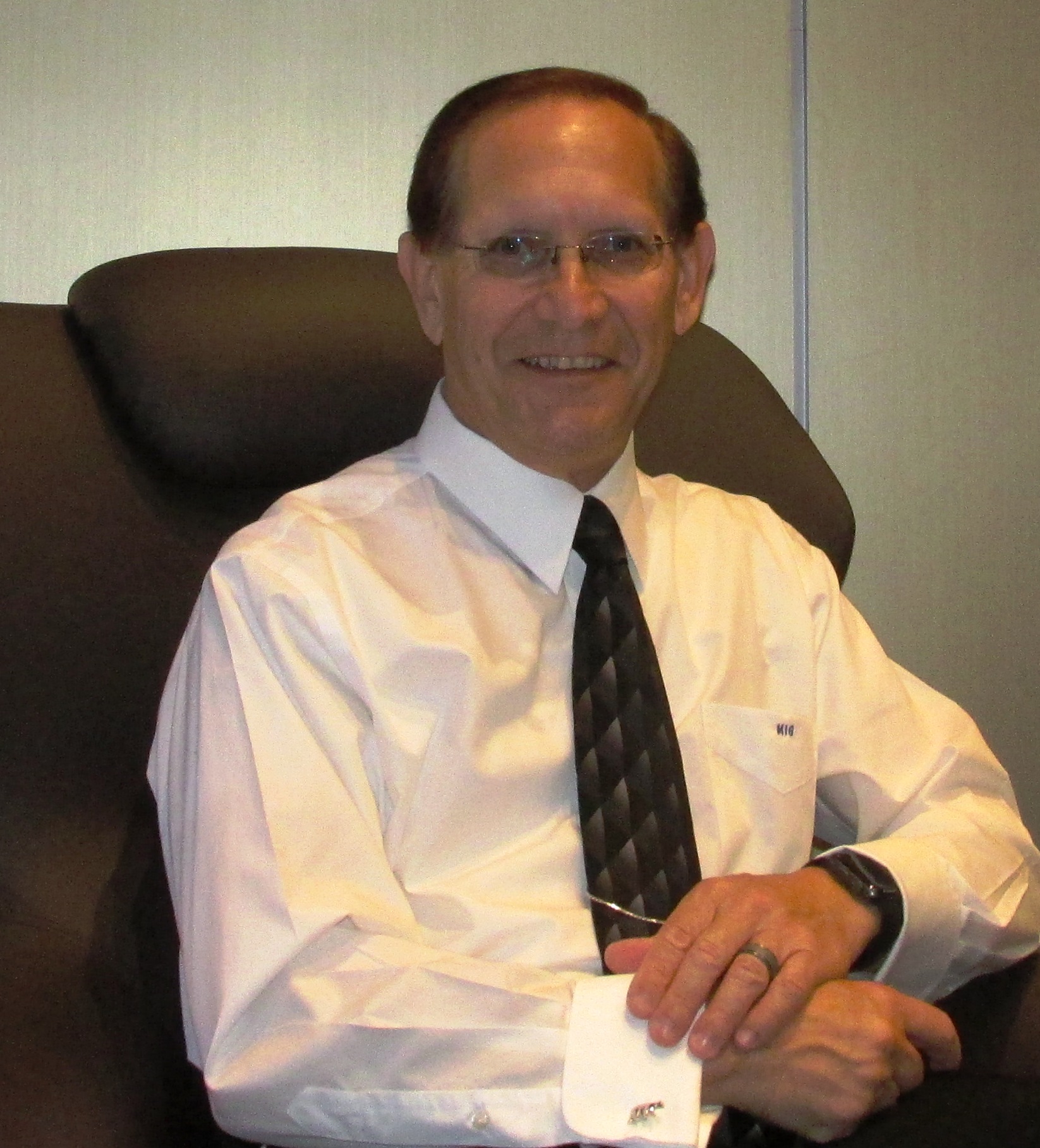 By Robert Majdak Sr., B.S., M.A., M.B.A.
CEO Management Insights Group, LLC
March 13, 2018

The PCL Business Landscape
     Principled-centered leadership (PCL) offers organizations an opportunity to improve as an organization in a manner consistent with its values. The advantage is to better the organization using PCL as a segue into a methodology for use in delivering positive organizational change. Although organizational change can be driven by market pressures, change in organizational culture, and a desire to aspire to move the organizational culture into a new and exciting direction, PCL can facilitate quality improvements through its implementation on many fronts.
     In today's workplace, an interesting generational dichotomy exists where established experienced owners and management need to lead a hybrid baby-boomer and millennial workforce in a compelling way that unites values that transform it so as to develop an enriched teamwork environment. A generationally diverse workforce can be very successful in marketplace positioning if the leadership manages all stakeholders well.
     In order to position an organization within the marketplace and industry more effectively, it is imperative that we understand the "perceptions of value-centered leadership principles for the purpose of better aligning future leader expectations with…industry workforce realities" (Maier, 2015, p. 382) to which PCL is a part. In a generationally diverse workforce context, PCL can facilitate such perceptions to a generationally diverse environment.
Principled-centered Leadership versus Value-centered Leadership
     For those leaders who prescribe to proven leading theories of leadership, Value-centered Leadership (VCL) is consistent to Transformational Leadership (TL) in the context of the dependency it places on effective leader to follower relationships. By virtue of this interdependency; accomplishment, morality, and motivation is transferred through the consistent example-setting habits of the leader. When the followership admires observed common values, followers tend to aspire to become focused on the emulation of those values. Likewise, the transfer of principle-centered values migrate from the leader to key followers then virally to their subgroups throughout the organization.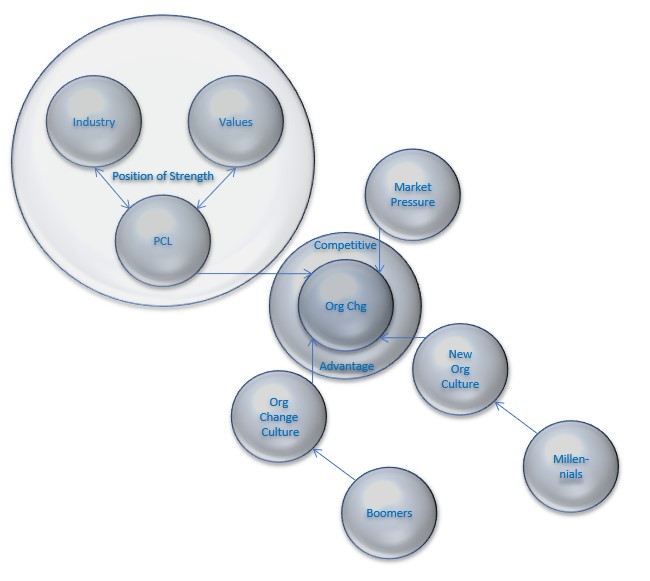 Perceptions of Principled-centered and Value-centered Leadership
     Research shows that the younger workforce is "more orientated toward people rather than task and organizational mission….these findings…[provide] industry leaders new insight into the importance of aligning workplace human resource practices with…[younger]…perceptions of value-centered leadership constructs" (Maier, 2015, p. 382). For instance, "millennials place a higher degree of importance on value-centered leaders that are inclusive, collaborative and committed" (Maier, 2015, p. 382). This information on its own merit provides "new insight into the importance of aligning workplace human resource practices with Millennial generation perceptions of value-centered leadership constructs" (Maier, 2015, p. 382). This is important for business purposes either to redirect these perceptions toward an organizational strength or leverage them for an enhanced organizational purpose which leads to organizational change and develops competitive advantage. See Figure 1. The end result, is to develop and strengthen our organizational culture allowing the organization to possess powerful leaders while encouraging followers that are united in a way that improves the organizations competitive advantage.
Moving Towards a Covenental Relationship
     Effective leaders are prepared to provide "organizational and individual value covenants" (Maier, 2015, p. 384). This covenantal relationship becomes a strong bond that facilitates by extension the reach of leaders ethical and moral values. We could then say that the organization moves to a value-centered organizational mindset while a meaningful and mutually beneficial covenantal relationship begins to develop.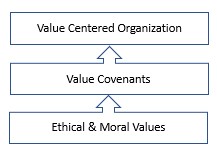 By definition, "a value-centered organization is one which places a high moral compass on leaders and their ability to affect positive change in those differences in and among work groups" (Shatalebi & Yarmohammadian, 2011 as cited in Maier, 2015, p. 384). In this way, leaders share their common goals and values as the leader moves the organization toward a higher level in organizational unity, breaking down silos and creates the integration of values throughout work groups across the organization. This is the fundamental distinction between bosses and leaders. Whereas leaders move an organization by inclusive relationship building. Bosses, on the other hand, lead by direction provided through authority. This latter method is obsolete and not readily accepted in today's hybrid workplace.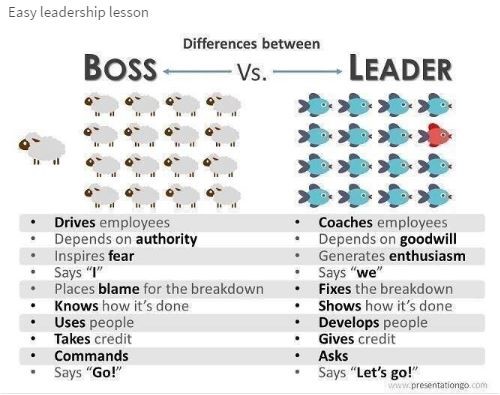 Principled-centered Leaders Internalize Their Values
     There are two facets of the value centric leadership mindset to consider. First, leaders must understand their own value set and consider the advantages and disadvantages of them as both strengths and weaknesses within the context of their business leadership role. This is done through mindful self-reflection with an emphasis upon what values might be best to change, hopefully for the better, and which of those to capitalize upon. Second, leaders must understand the values of others especially those who would be affected as followers either in a business relationship context where leaders establish the organizational standards and a non-business context affecting their public reputation in associations, churches, clubs, etc.
     Armed with the reality of these two sets of values and those of the organization, leaders can work to develop decision making processes leading to management decisions which achieve organizational objectives in alignment with its mission, alignment with values of the followers, and not comprise their own values in the process (Maier, 2015). Therefore, it is essential that value-centered leaders maintain principles of personal self-reflection, prepare for personal compromise, and possess personal-confidence, while exercising genuine humility. Thus, developing strong trusting relations with followers and other organizational stakeholders.
Leaders Foundational Constructs
     While foundational constructs of leaders are many, here are a few of the important ones that are the most basic and essential (Maier, 2015) found in successful leaders.
robust moral values
very high ethical standards
desire to seek inspiration in spirituality
consistently driven by values of honesty and integrity
     You will notice that we intentionally leave out other management value concepts. There is a time and a place for every concept, even an amalgamation of them, this article is not addressing those right now. For this discussion have we set aside the notion of "Management by objective which concentrates on desired results, on establishing goals and measurements of effectiveness and efficiency in achieving them", That is a topic of another article. Today, we are looking into the most fundamental internalized values found in the hearts of successful leaders. We are seeking the best in the human condition and our better angels.
     In the application of higher constructs today, PCL embraces new thoughts and ideas, accepting the opportunity for change to occur as a result of these foundational constructs. In other words, the organization could move to a higher level through the implementation of open thought, that is, ideas from others that might not otherwise be in a position of change on their own" (Covey & Gulledge, 1994, p. 4). We concentrate on "performance improvement…more directly through focusing on changing the human behaviors necessary to achieve the objectives, including communications, exhortations, and skill training" (Covey & Gulledge, 1994, p. 4). This is where organizational competitive advantage lives and breathes exponential power into the company making it noteworthy in its marketplace.
     This leads us back to where we started, as business leaders seek to embrace a hybrid generational workforce, people centricity becomes essential for the development of immersive collaboration and inclusivity. Knowing that the younger workforce is more individually-centered means that their participation in our organizations is a statement of our mutually agreeable values albeit, not all of them. That said, to maintain their attention in a hybrid environment, an obvious common value set must be recognizable to them as they are mentored into a less individually-centered, more teamwork based and multidisciplinary diverse environment. Therefore, inclusiveness in their work environment…mentors to show them the ropes and…[training in]…people to people interactions" (Maier, 2015, p. 393) is imperative to organizational success. Further, they are going to expect some type of "participative leadership, and [value-based] direction" (Maier, 2015, p. 393) in order to get there.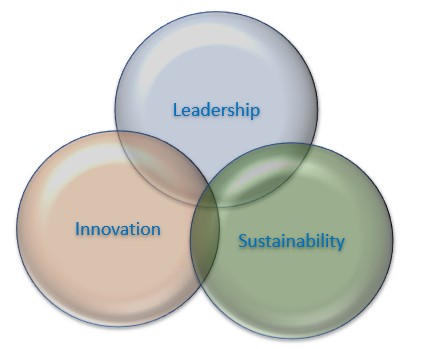 The End Result
     When implementing PCL as described it is important to understand the end result. We believe that VCL leads to PCL and is used somewhat interchangeably in this writing. That said, when PCL is achieved, PCL can have a greater positive influence on individuals, teams, and the organization leading to creative activities and a work climate that is conducive to extreme innovation, sustainability, (Waite, 2014) and value-added product development while establishing strong marketplace positioning. If this is what you seek, then PCL is what you want to aspire to attain. From here an organization can achieve its competitive advantage and pull ahead from its competitors in a powerful way.
More Information
     For more information on PCL that will improve your organizational image and financial bottom-line, contact Management Insights Group, LLC Monday-Friday 9:00 a.m. – 5:00 p.m. CST or email us at Info@ManagementInsightsGroup.com. We will be glad to arrange a consultation with you and help you move forward in your exciting journey in organizational change and increased profitability.
-MIG
©2017 Management Insights Group, LLC
Dallas/Fort Worth Texas Office (469) 522-3469
References
Covey, S. R., and Gulledge, K. A. (1994). Principle-centered leadership and change. The Journal for Quality and Participation, 17(2), 12.
Maier, T., Tavanti, M., Bombard, P., Gentile, M., & Bradford, B. (2015). Millennial Generation Perceptions of Value-Centered Leadership Principles. Journal of Human Resources In Hospitality & Tourism, 14(4), 382-397.
Waite, A. (2014). Leadership's influence on innovation and sustainability. European Journal of Training and Development, 38(1/2), 15-39.